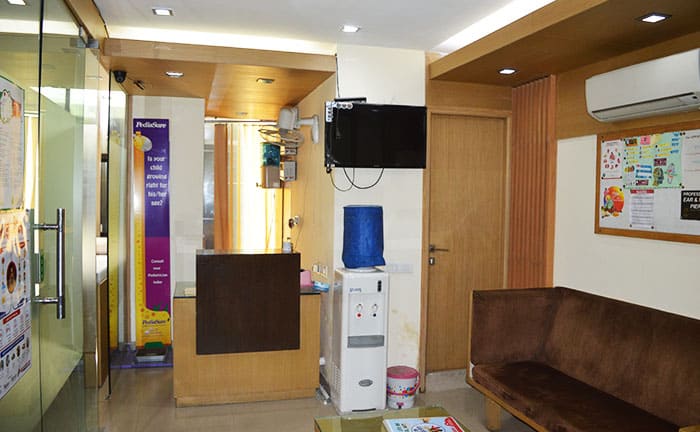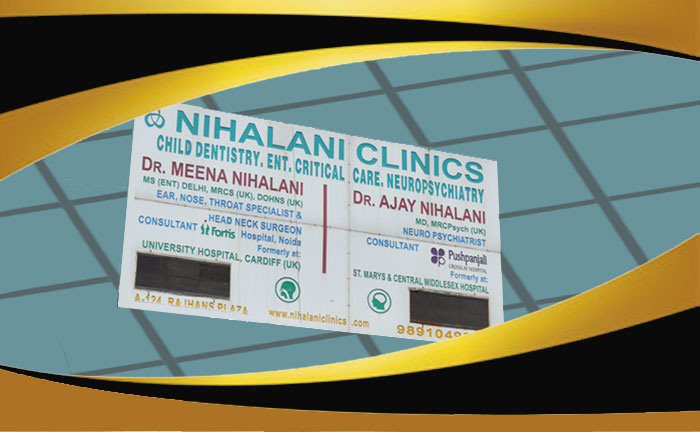 Timing
11 AM to 01 PM
06 Pm to 8:30 PM
Sunday:- 11:00 AM - 1:00 PM
Psychological Services
Provided By Ms. Geeti Sudha, D' Monty & Prerna Sharma
Medical Professionals
Dr. Ajay Nihalani (MBBS, MD, MRCPsych)-> Dr. Meena Nihalani (MS[ENT], MRCS, DOHNS) & Dr. Shweta Nihalani (MDS[Paedodontics])
Best Psychiatrist in Ghaziabad
निहलानी क्लिनिक मे मनोचिकित्सा से सम्बन्धी सभी समस्यायों का समाधान किया जाता है. जिससे रिलेटेड आपके जीवन मे हो रही कई तरीके की समस्या का समाधान किया जाता है. ये समस्या सिर्फ मेन्टल इलनेस और मेन्टल डिसऑर्डर तक ही सीमित नहीं है इसके थ्रू हम रिस्तो मै सुधार, व्यवहार में बदलाव, नशे से मुक्ति, तनाव, डर, नकरात्मक आईडिया में बदलाव लाना और चिंता से छुटकारा भी मिलता है. डॉक्टर से बातचीत करने के लिये आप हमें वेबसाइट पर निचे दिए गए एड्रेस पर मिल सकते है या फिर आप हमें इस मोबाइल नंबर +91-8130491951 पर कॉल कर सकते है. हमने आप की सुविधा के लिया वेबसाइट पर ऑनलाइन फॉर्म भी दिया है जिसे भर कर आप "Submit" बटन पर क्लिक कर सकते है और डॉक्टर आपको स्वंय कॉल करेंगे। इसमे Client और मनोचिकित्सा के बिच सारी बाते गोपनीय रखी जाती है और किसी दुशरे के साथ शेयर नहीं की जाती है.
14 Years of Medical Excellence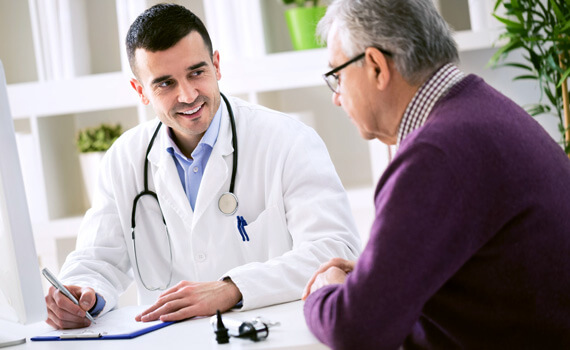 Nihalani Clinics is a family run clinic providing services in the fields of ENT, Child Dentistry (Paedodontics), Psychiatry and Sexology in Ghaziabad.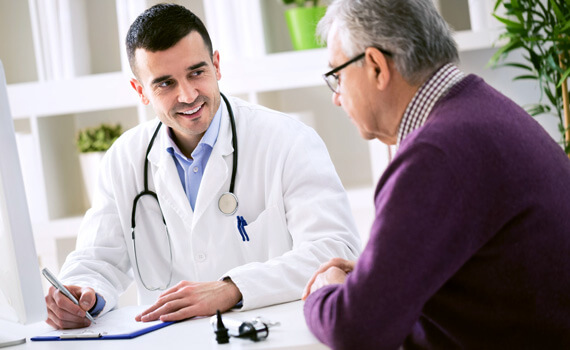 Our Mission
Being a Psychiatrist Dr. Nihalani works to promote the wealth and well-being of mentally ill humans through his integrated and multidisciplinary approach of treatment. With latest technology and advanced clinical services he is available to provide guidance to his patients and give them best support for living a better life
Our Vision
His mission is to deal with persons of psychiatric, disabilities, addiction, ENT, densitry and sex related problems. Investigating his clients in holistic manner and treats him with social, legal and Economical aspects and encourage them to lead and independent and dignified life in society. Apart from that he wants to make people aware about mental diseases
Services
Psychotherapy And Counselling
Medication
TMS
Drug De-Addiction And Rehab
Pick Up For Violent Patients
Psychological Testing
Common Issues Addressed
DISORDERS
Depression
Bipolar Disorder
Obsessive Compulsive Disorder
Schizophrenia
Anxiety Disorder
Breast Pathology
Attention Deficit Disorder
Borderline Personality Disorder (BPD)
know more
What We Also Do
ENT Surgeon (Dr Meena Nihalani)
Services are provided by Dr. Meena Nihalani (MS, MRCS, DOHNS). Dr. Meena is currently working as a
senior ENT Surgeon at Fortis Hospital, Noida and provides consultation at Nihalani Clinics.
She is a alumni of UCMS, Delhi. She did her MS from Safdujung Hospital. She worked in the NHS(UK)
for six years and gained membership of the Royal College of Surgeons, Edinborough through an exam
plus a Diploma in Head & Neck Surgery.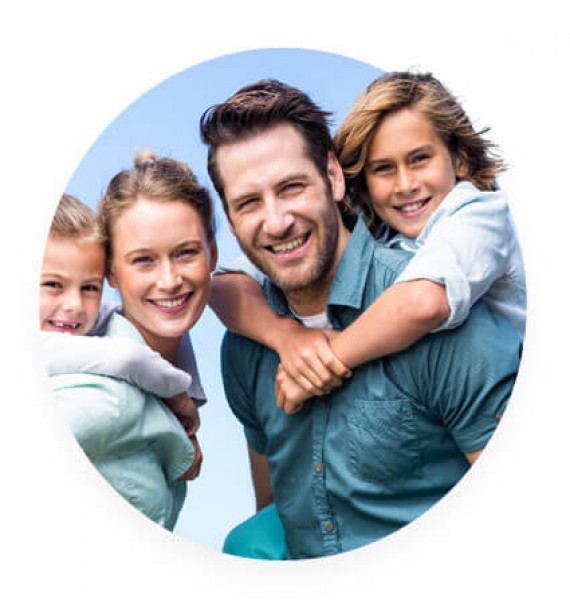 Child Dentistry (Dr.Shweta Nihalani)
Dr. Shweta Nihalani provides an ongoing assessment of your child's oral and dental health. Being an expert
Pediatric Dentist, she monitors your child's needs and provides advice and treatment to ensure your child's
well-being. From teething infants to peer, appalled teenagers, to budding aspirant young adults, she has been
spreading smiles and taking care of their oral health care needs to be based on their comprehensive health
care needs and extensive clinical experience.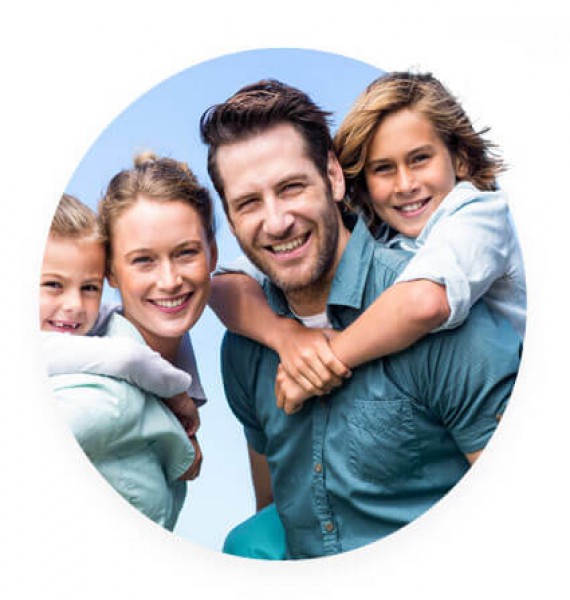 Psychiatry & Sexology (Dr. Ajay Nihalani)
Dr. Ajay Nihalani is a senior Psychiatrist and has his clinic at Indirapuram. He is a member of the Royal
College of Psychiatrists (UK) via exam, the member of the American Psychiatric Association and Fellow of the
Indian Psychiatric Society.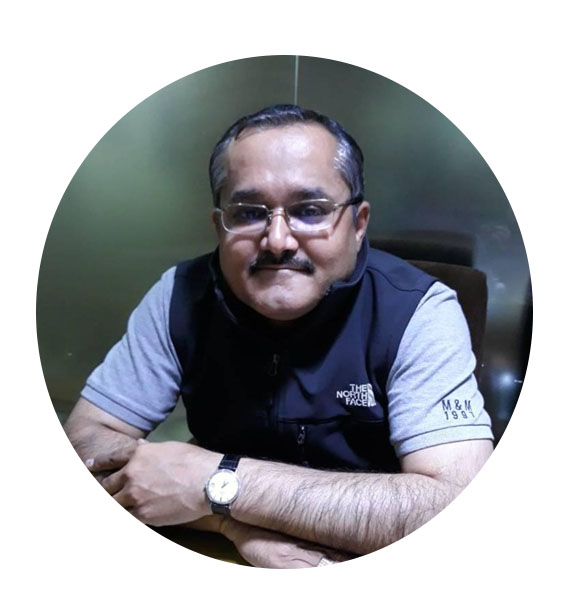 WHY CHOOSE US
Nihalani's clinic is among the most popular medical organization available in Indirapuram, Ghaziabad which is equipped with expert psychiatrist, sexologist, dentist and ENT Specialist providing healthcare services. It is well driven by Dr. Ajay Nihalani who is proven psychiatrist, sexologist serving from many years by using latest technologies. There are a lot of reasons for which you should give priority to Nihalani's clinic when you are suffering from any of the problem regarding psychiatry, sexology, Dentistry etc.
Expert and well experienced doctors
Trusted among individuals
Any time online appointment is possible through Practo platform
Friendly counseling by doctors, sometimes help of Ayurveda is also available
Affordable fee or consultation
Online payment is available
Offers RTMS and other neuro modulation techniques
Child psychiatry and ENT specialist is available
High level of transparency is maintained
Testimonials
Visited For
Alcohol De-addiction Treatment
Happy with: Treatment satisfaction
I am very much satisfied the treatment given me by the doctor now i am improving i have also leave the alcohol with the help of treatment given me by the doctor
Visited For Anxiety Disorders Treatment
Happy with: Doctor friendlinessExplanation of the health issueTreatment satisfaction
I have a very good experience with doctor. Doctor is very friendly and give patients proper time until patient question are finished.I am feeling better after his treatment.Thank you doctor!- Vikas Jain
Visited For Anxiety Disorders TreatmentSleep Disorder Treatment
Happy with: Doctor friendlinessExplanation of the health issueTreatment satisfactionWait time
Dr. Ajay Nihalani is the 4th specialist we are consulting for my fathers treatment. He is very friendly and listens to the issues very patienty. He dedicates lot of tie to understand the problem and history. My father is feeling better after 4 days of medication and we hope he will get better gardually. The only issue now remains is of weakness and pain in legs whichthe Dr. has assured this will reduce with time. Till now we are satisfied with the treatment.
Visited For
Psychosexual Problems
Happy with: Doctor friendlinessExplanation of the health issueTreatment satisfactionValue for moneyWait time
I felt confident that my problem shall be solved. I am feeling less tension now. I am feeling positive response. Thanks.
Visited For Psychoanalysis
Happy with: Doctor friendlinessExplanation of the health issue
He is friendly and listens to your problem with attention. He explains the underline health issue clearly and would help you feel confident that you would be able recover soon. It was just my first visit so I will share how my experience goes further. Thanks:)
Happy with: Doctor friendlinessExplanation of the health issueTreatment satisfaction
Dr. Ajay Nihalani diagnosed the disease and explained it in simple terms. The prognosis and its treatment was discussed which helped in better understanding of the disease. He is a friendly doctor who puts his patients at ease. He treated the disease *********** and am thankful to him for all the help rendered.
Visited For Suicidal BehaviorDepression Treatment
Happy with: Doctor friendlinessExplanation of the health issueTreatment satisfactionValue for moneyWait time
I visited for depression treatment of my wife. Doctor Ajay examined her and asked few questions. Later he given few medicines, which is now reduced to only one dose of 5MG. Its been now going to be 2 years, she is absolutely fine and good. I really appreciate Doctor's ********* *** experience.
Best Sexologist in Ghaziabad
निहलानी क्लिनिक मै सेक्स से सम्बन्धी सभी समस्या का समाधान किया जाता है मै डॉ. अजय निहलानी हूँ और मै एक यौन चिकित्सक ओर मनोचिकित्सक हूँ मेरा लक्ष्य लोगो की इस समस्या का समाधान करना है डॉक्टर से बात करने के लिए निचे दिए गए एड्रेस पर मिल सकते है या फिर मोबाइल नंबर +91-8130491951 पर कॉल कर सकते है आप ऑनलाइन फॉर्म भी भर सकते है और निचे दिए "SUBMIT" बटन पर क्लिक कर दी जिये डॉक्टर आपको स्वंय फ़ोन करेंगे और आपकी सारी बातें गोपनीय रखी जायेगी।